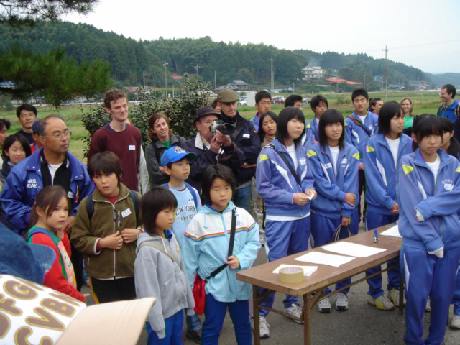 オープニングセレモニー
カナダ海外研修の中学生たちも参加しました


The Opening Ceremony begins! Junior high school students who participated in the Ogawa Overseas Study Travel Tour to Canada in August 2004, also participated in the rice-harvesting home-stay party. Some were host families for ALTs and CIRs participants.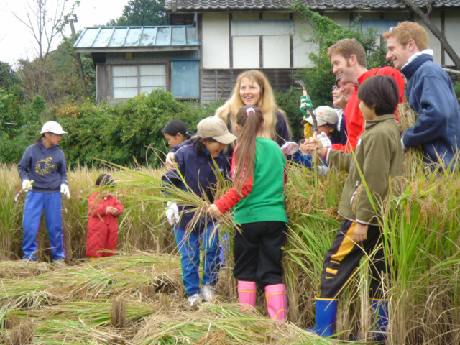 英語で話しているんでしょうか


Are they speaking English? (This is Hoshi san`s joke, not Marianne`s)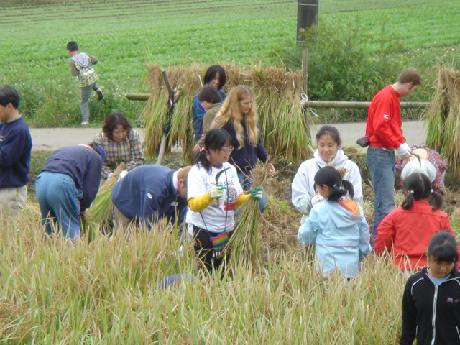 刈り取っている稲は「もち米」です
「うるち米」との違いわかりますか?!


Harvested rice is gathered in bunches, tied in a bouquet and hung upside-down on bamboo supports.

(This is

Marianne`s

comment.)


作業も中盤にさしかかりました


Almost one half of the field has been harvested!




稲刈り作業も終わり全員集合です


The harvesting is finished and so it is time for a group picture.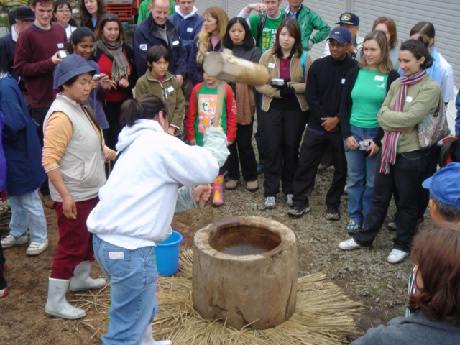 秋の稲刈りには、餅つきも行われます
Cooked rice is pounded into a dense kind of rice paste called mochitsuki. During the rice-harvesting home-stay party, mochitsuki is made with the help of ALTs and CIRs.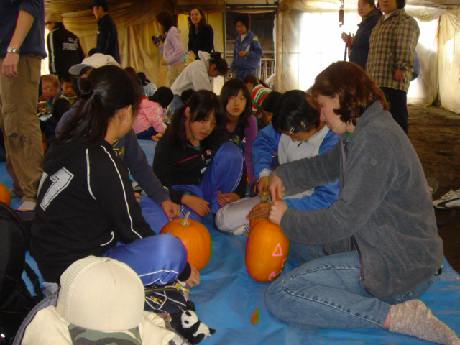 かぼちゃペインティングのはずが
ハロウィン用のランプ作りになっていました


Yassan Fukushima hosts the rice-planting and harvesting parties on his farm with his wife Satoko, his parents and other family members in a very warm, friendly, generous and open spirit. He also grows North American pumpkins (former ALT and CIR participants send him the pumpkin seeds) for the rice-harvesting home-stay parties. ALTs and CIRs carve pumpkins with elementary and junior high school students. As we found out though, the Australians and Brits were a little at a loss as to how to carve them! (It is more a North-American tradition.)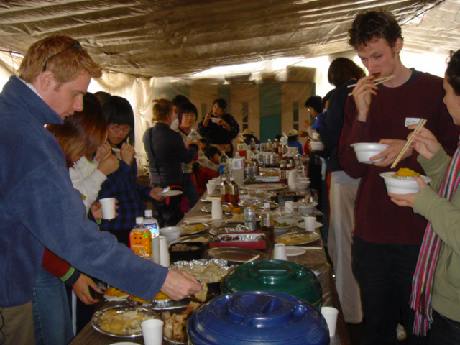 テーブルに載りきれないほどのお料理です


What a beautiful table with such a wonderful variety of foods prepared by many volunteers from Ogawamachi.